World Cup 2020: Live Streaming Sites
18+ | Commercial Content | T&Cs apply | Begambleaware.org
| Bookmakers | Free bets | Ranking | Free Bets Link |
| --- | --- | --- | --- |
| William Hill | Up to £40* | | Get the bonus > |
| Bethard | Up to £50 ** | | Get the bonus > |
| Bet365 | T&C apply*** | | Get the bonus > |
| Paddy Power | Visit the site | | Get the bonus > |
| Betfred | Bet £10 Get £40 in Bonuses  | | Get the bonus > |

The vast majority of bookies provide a live streaming option that covers nearly all of sports categories but this year, things will be extra "hot" since the FIFA World Cup is approaching and awaited by millions of gamers across the globe. The live streaming option, of course, will prove extra valuable and exciting during the World Cup.
Like we always do, we provide you with the top info you'll need in any of the sport betting options you seek. But this time, we'll dedicate our article to Live Streaming and all the things major bookies can offer concerning Live Streaming. Here we outline all the important info and rules for each bookie that offers live streaming, just a few months before the World Cup.
Bear in mind that all these streaming picks are legal and official and we don't suggest that you stream the games from illegal platforms like livetv.ru, for obvious security reasons.
Ladbrokes: The leading streaming platform
Ladbrokes, without any doubt, has been one of the leading live streaming platforms. We especially like their platform because of its rich selection of sport markets–the biggest in Britain and their live betting-live streaming combo. You can view sport events straight from Live Streaming, on the primary site of Ladbrokes. The quality is High-def (in the majority of events) and you can choose to see the game full-screen if you wish.
These markets are covered by Live Streaming: Football, Horse Races, Tennis, Basketball, and some others. All are viewable in high-def quality and live commentary from experts.
Live streaming rules
Unlike other operators, Ladbrokes doesn't ask their players to place a bet first to access the Live Streaming feature. The only rule to be granted access is to maintain a balance on your account that exceeds £10 or the min. Funds needed by the bookie. This isn't hard to meet as the majority of users are primary focused on using the live betting and streaming options together.
How to maximize your Live Streaming experience in Ladbrokes
The sole privilege that Ladbrokes offers better than other operators, is that Live Streaming is accessed in the primary app of Ladbrokes. This is a privilege that allows users to view the games while they take place directly, from a wi-fi connection and 4G network. Besides that, the bookie holds specials that can be paired together for the 2018 World Cup and other major events throughout the year. The loading speed and connection is really quick and you only need an average online connection to access it.
Link: Tips to get the Ladbrokes promo code
William Hill: solid coverage
The operator already has a robust name in the biz for its great coverage of the majority of famous sports games, across the globe. Their Live Streaming option is a quality one and this year they have stepped up their game. William Hill, of course, couldn't deny coverage of the 2018 FIFA World Cup to play in Russia with Live Streaming. This, of course, is paired with the greatest odds in the field plus many enticing bonuses and special. Their primary broadcasting service is WHTV (William Hill TV).
Among the sports markets being covered by Live Broadcasting are Tennis, Football, Greyhounds, Snooker, Baseball, Handball, Basketball, Volleyball, and Hockey. A pretty rich and extensive sports range if you ask us.
Rules for entering the William Hill TV
The operators grants access to Live Streaming free of charge for football and other major sports like the ones listed formerly except Horses as players have to place a min. Stake of  £1 to be awarded access in these sports markets. Football and other big sports categories come with certain limitations based by region and to the availability of the T.V service supplier. Check to see if your area is included in Live Streaming through your player account.
How to maximize your live betting experience
Like any robust bookie in the biz, William Hill doesn't provide access to this service through its primary platform but its dedicated mobile app and mobile website as well. Players are free to place bets through live staking and live broadcasting simultaneously. Additionally, William Hill informs users with live updates as the sports game progresses live. Keep in mind that there is some time delay in streaming but this is only a few seconds.
Link: Latest William Hill promos
Paddy Power: A solid participation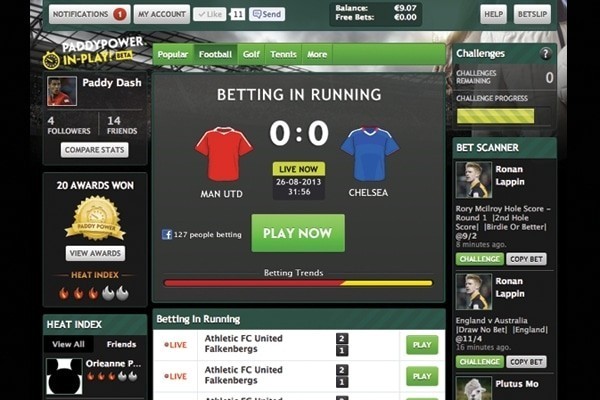 Paddy Power is a flawless pick to access Live Streaming and the upcoming FIFA World Cup in Russia–this is because of its solid coverage all live sports games. The players are free to watch and enjoy the majority of games appearing on the platform and allowed to place any type of bets live on the site, while they are watching them at the same time.
Sports categories accessible with Live Streaming:
Football, Horses, Tennis, Greyhounds, Basketball and Races to name a few. Paddy Power also provides access to games based on region e.g Britain and Europe, U.S.A, Latin America, and RSA and few other big countries.
Live Streaming rules
Paddy Power asks players to add a min. Deposit amount in their account's wallet to be granted entrance to Live Streaming. There are games that cannot be accessed in certain regions as Paddy Power only provides the live streaming service to certain regions in the globe. You can see which countries are included in the service a list provided by the bookie. If you are interested in horses and greyhounds, you should put a min. Stake of £1 or something of equal value in the local currency needed. The majority of events have live English commentary (some are excluded).
How to maximize your Paddy Power Live Streaming experience
The sole thing that players need to do first is to install the Paddy Power mobile app, which can be viewed by the majority of mobile devices and is also quick and trusty. Players can easily watch the game live and place bets at the same time, throughout the course of the World Cup. All the WC specials and promos will be activated at the beginning of the World Cup in June, 2018. The simplest way to do this is to install the Paddy Power app and view the matches live from there.