Champions League 2020 Predictions: Latest odds and betting tips
18+ | Commercial Content | T&Cs apply | Begambleaware.org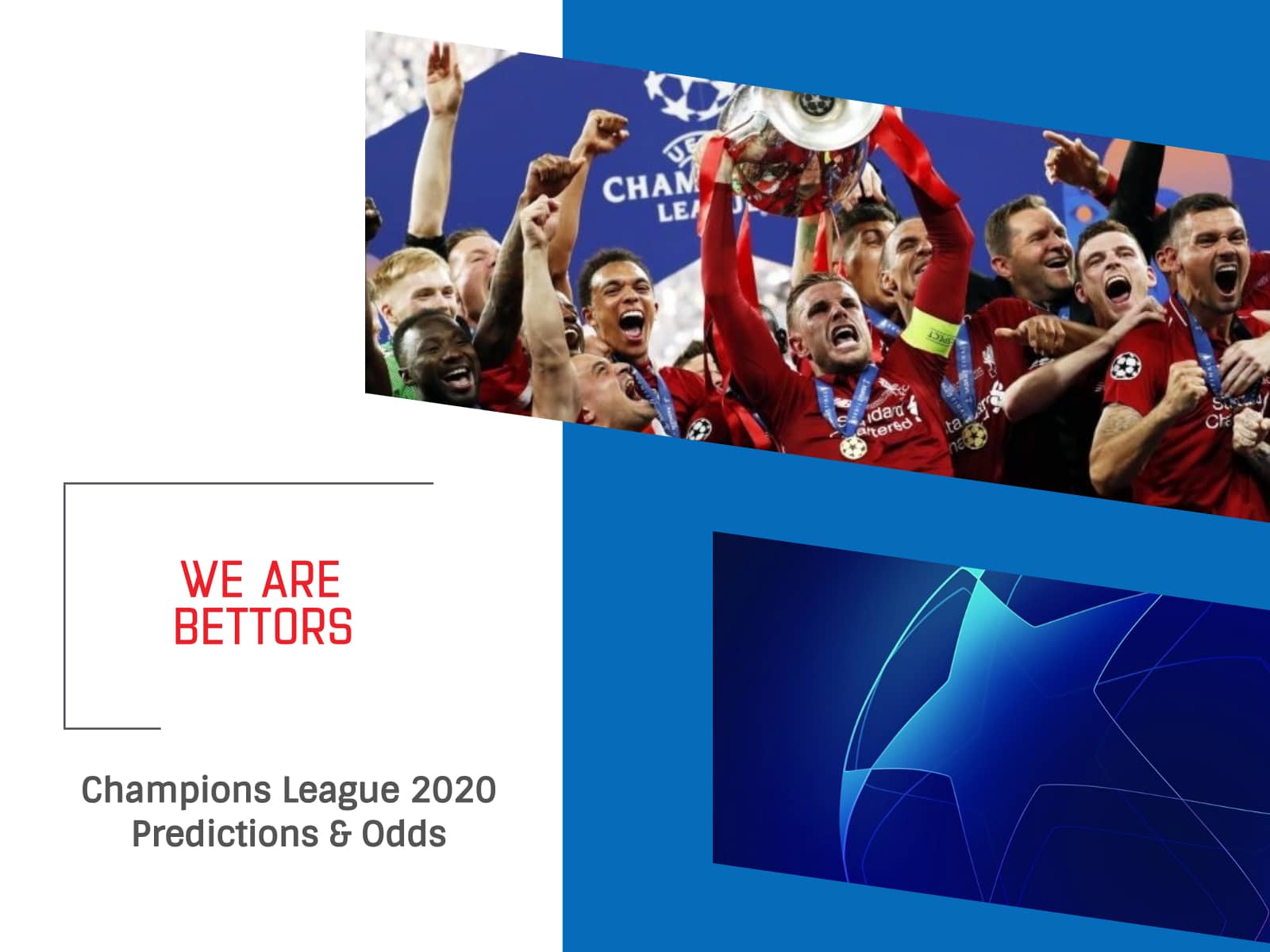 Bookmaker
Next Match
Match Odds
UCL Betting Link
BET365

Liverpool v Atletico Madrid - Wed 11 Mar

Liverpool: 1.50
Draw: 3.90
Atleti: 7.50

> BET NOW

PADDY POWER

PSG v Borussia Dortmund - Tue 17 Mar

PSG: 1.60
Draw: 4.33
Dortmund: 4.75

> BET NOW

WILLIAM HILL

Man City v Real Madrid - Tue 17 Mar

Man City: 1.57
Draw: 4.00
Real Madrid: 5.50

> BET NOW

BETHARD

Barcelona v Napoli - Wed 18 Mar

Barcelona: 1.40
Draw: 4.75
Napoli: 7.00

> BET NOW
Bookmaker
Man City Outright Odds
UCL Betting Link
BET365

Bet365 Outright Odds
5.00*

< BET NOW >

PADDY POWER

Paddy Power Outright Odds
4.50*

< BET NOW >

WILLIAM HILL

William Hill Outright Odds
5.00*

< BET NOW >

BETHARD

Bethard Outright Odds
4.50*

< BET NOW >
Champions League 2020 Round of 16 Predictions: Tips and Odds
The draw has been made and the best sixteen teams have made it to Champions League knockout stage that kicks off in less than two months. Make no mistake about it; you are yet to watch one of the most anticipated football shows on the planet. Borussia Dortmund will be up against Paris Saint-Germain, Tottenham will face Germany's resurgent RB Leipzig, Olympic Lyon will battle it out with Juventus, and Napoli will make the first trip to Camp Nou to face Barcelona. Other fixers in the knockout stage are Chelsea vs. Bayern Munchen. Atalanta vs. Valencia, Atletico Madrid vs. Liverpool.  Real Madrid vs. Manchester City is another highly anticipated game in the knockout stage.
Teams are looking to strengthen their squads in the January transfer window before kickoff. Having won the 2019-2020 title, Liverpool is once again showing signs of excelling on the big football stage, so we can only wait to see how far Jurgen Klopp's men will go in the competition. The English team which came second in Barclays Premier League after narrowly losing the domestic title to rivals Manchester City are proving to be a real threat both at home and on Europe's biggest football stage. The question on everyone's mind right now is will Liverpool retain their UCL crown? Or who will be crowned Europe's UCL champions in May 2020?
Predictions for Borussia Dortmund vs. PSG
Our Bet: PSG to qualify 
Odds: 1/4
This is one of those games you don't want to miss on a champion's league night. While the two sides have had some dips in the current season, it is admissible that they have equally shown a sterling performance on the big stage. From our perspective, Dortmund is facing one of the biggest tests in their Champions League campaign. They only managed 10 points from 6 games, nearly losing second place to Inter Milan. The question is will they triumph against their former manager Thomas Tuchel, a man who knows them inside-out? Even more noteworthy is Dortmund's likely approach to the speed PSG has in players like Killian Mbappe.
Lucien Favre, the manager of Dortmund is also facing a real threat on the flanks, where players like Di Maria and Neymar will be running riot.  A well set up defence line and a solid midfield to supply strikers like Jadon Sancho, Achraf Hakimi and Marco Reus will give Dortmund some hope. But if we consider squad depth, set up and a well-drilled PSG is, carrying through a fixture that pits you a former manager in Tuchel is a tough one to call. We see a goal-fest match- in both legs, with PSG progressing on goal aggregate.
Predictions for Real Madrid vs. Manchester City
Our Bet: Manchester City to qualify 
Odds: 4/11
Pep Guardiola did not have a good campaign in 2019/2020  UCL despite advancing to Semis where the Citizens lost to a resurgent Tottenham.  Pep has faced real Madrid before while at Camp Nou. He knows too well how difficult this fixture is at a time when a proven UCL winner in Zinedine Zidane is back on the touchline. If there is a UCL fixture you shouldn't miss, it is Real Madrid vs. Manchester City.
Manchester City has been having defensive problems lately; losing to rivals they would have beaten a year ago. Their position on the EPL table is a pointer to how shaky they have been in defence. While they conceded only four goals in the group stage and bagging 16 points from 6 games, things have not been looking up with defenders like Aymeric Laporte and John Stones battling injuries. We take note that Pep has had an easy opponent in UCL group stage, with an only draw coming from a fixture against Shakhtar Donetsk in November.
However, despite being a proven tactician with fast players in Raheem Sterling, Sergio Aguero and Riyad Mahrez, not to mention big talent in Kevin De Bruyne, facing Zidane and a resurgent Madrid will be a real test on litmus paper. In this fixture, we see fireworks both on-field and the touchline. It is a tough one to call with plenty of goals expected from both ends. Read Madrid is no pushover but with the return of Laporte eminent before the commencement of Champions League nights, Manchester City look set to edge out Madrid in a nail-biting competition.
Predictions for Atalanta vs. Valencia
Our Bet: Atalanta to qualify 
Odds: 6/5
Result:
This looks like a toast for both sides. Atalanta will be looking to advance further in the ULC but Valencia is one of those Spanish teams you cannot call underdogs during a ChampionsLeague night. Despite their shaky performance in the group stage, conceding seven goals and winning against Ajax in the last group stage, a red card for Valencia's Gabriel Paulista and their inconsistency on the big stage may come back to haunt their defence.
Atalanta, on the other hand, is a team that can go all-out playing attacking football. On the book, Atalanta is cohesive, more than Valencia. The bookies may, however, favour the Italian side to progress because of their history in the campaign. Atalanta may have collected only 7 points from 6 games, shipping in 12 goals and emerging second behind Manchester City, their resilience in the ULC fixers has been amazing. They only need to be more clinical in front of goal and defend more solidly. With highly-rated forwards like Alejandro Gomez, Duvan Zapata, and Luis Muriel looking to find the net, we are backing Atalanta to secure vital three points in the first leg then look for a draw in the second leg. We predict that Atalanta will progress, something that they look set to secure in a thrilling first-leg fixture taking place on home ground.
Predictions for Atletico Madrid vs. Liverpool
Our Bet: Liverpool to qualify 
Odds: 4/11
No manager, even Diego Simeon, with experience and tact, would have wanted to face a returning Champions League winner. But here we are, looking forward to a fixture that will keep everyone on the edge of their seats. It is a fixture that pits two great managers against each other. With Liverpool sitting atop EPL table and doing wonders in Europe's biggest tournament, Klopp wouldn't have been more hopeful for another big triumph.
Atletico emerged second after Juventus in group D, conceding only five goals, and three less than Liverpool's eight. The English side bagged 13 points from 6 games with the Spanish side collecting 10 points. Defensively, therefore, both teams are well set up. However, considering Liverpool's recent form, retaining a top slot on the EPL table since the start of their domestic campaign, they are a force against which no wants to come.
Also, considering the highly-rated talents in Mohammed Salah, Virgin Van Dyke, Roberto Fermino and Alexander Arnold, we are a looking at a nightmare fixture for Diego Simeon's side whose form has been marred with several draws and currently sit fifth on the La Liga table. Atletico Madrid may be a different beast on the ULC platform, but we don't see strikers like Alvaro Morata shooting past Liverpool's well-drilled defence line. Defending skills in Kieran Tripper, Saul Niguez and Mario Hermoso will have a difficult time preventing Sadio Mane from showing his Champions League heroics. We are, therefore, backing the English side to progress.
Predictions for Chelsea vs. Bayern Munchen
Our Bet: Bayern to qualify 
Odds: 1/4
Chelsea is facing a big test this season in Bayern, a team that Arsenal will want to forget quickly. Robert Lewandowski is looking forward to another game of his life, having emerged a likely contender for Champion's League golden boot. Bayern has come out as the best team in the group stage, scoring twenty-four times, conceding only five times and grabbing all the 18 points. If that is not something to worry Chelsea, then we don't what else there is that they should fear before Champion League nights return. Chelsea' defensive mishaps have seen them concede 9 goals, and only finding UCL net 11 times. Progressing to the knockout stage wouldn't have been more surprising though, given their tact and class in the final third. But they are facing a team whose top striker, Lewandowski, is currently the leading goal scorer in Champions League. And so, the big question is, how will they contain Bayern's top form in the box given their squabbles with dead balls and set pieces?
Will Frank Lampard suffer his worst defeat at Stamford Bridge or away from home? We cannot tell for sure. Every team has made it this far on merit. But as far as Chelsea's inconsistencies go and a transfer ban that saw them pick up from a poor start, their leaky defence will thwart scoring efforts of Tammy Abraham, Odoi and Mason Mount. Chelsea has at its disposal, young talents who have proven everyone wrong but Ngolo Kante may have a difficult match against a Philippe Coutinho who has discovered his form. We see a frenzy of goals in this fixture with Bayern Munchen progressing on Aggregate.
Predictions for Lyon vs. Juventus
Our Bet: Juventus to qualify
Odds: 1/10
Since leaving Old Trafford having lost his place in the pecking order under then Manager, Jose Mourinho; Memphis Depay has played a major role in Olympic Lyon's games. His regular starts in Netherland's national team notwithstanding, Depay looks like the Jigsaw fit that Lyon needed to feature successively in Champions league. But now, injury has ruled out the Dutch playmaker, possibly until the end of this season.
Lyon's highly-rated midfielder Jeff-Reine Adelaide also picked an injury, alongside Depay when they played Stade Rannaise on 15th December 2019. Now, the two most influential players in the team look sidelined for the remainder of Champions League.  We see it as a big blow to their struggles. An inconsistent form for the French side is equally a worrying trend going into a match against Juventus.
Paula Dybala, Christiano Ronaldo, Douglas Costa, Gonzalo Higuain, Mario Mandzikic, Aron Ramsey, Miralem Pjanic, Adrien Rabiot and Blaisse Matuidi give Maurizio Sarri a reason to hope for a Champions League title having won all their group stage matches except a draw against a well-drilled Atletico Madrid in September. Christiano Ronaldo is hungry for another UCL title with a different team, having failed to secure one in 2019 – 20 campaign. Goalkeeper Gianluigi Buffon is back as a regular starter. A Short spell in PSG may have not converted into a Champions League trophy for the goalkeeper when a spot-kick by Manchester United's Marcus Rashford dashed his hope in an unexpected turn of events. But having teammates like Christiano Ronaldo and a manager who hunger for titles in Sarri, presents new hope.  Juventus has got this in the bag already.
Predictions for Tottenham Hotspur vs. RB Leipzig
Our Bet: Tottenham to qualify 
Odds: 4/5
Tottenham's hopes of securing 2019 – 20 Champion's League failed to materialize. They gave it all away too easily, despite Luca Mourra's saving the Londoners from Pep Guardiola's men in a thrilling quarter-final. They are back at it again, qualifying for the knockout stage. A UCL fixture against RB Leipzig may not be at par with Atletico vs. Liverpool or Real Madrid vs. Manchester City, but with a shrewd tactician but in Jose Mourinho on the touchline, we may see a different Tottenham, more aggressive and hungry for a football title after many years without one.
Jose Mourinho is looking to strengthen his defence line before kickoff, and it is something that will make a big difference for the Londoners. Harry Kane, Christian Eriksen, Lucas Moura, Dele Ali, Hueng-Mun Son, Moussa Sissoko and Toby Alderweireld have improved massively under the Portuguese tactician who has lost only once in EPL since taking over. Losing 3-1 against Bayern at Allianz Arena highlighted areas that Mourinho must fix and we trust he will do just that in January. RB Leipzig is a strong team at home, and Tottenham will have to figure out how to beat a team that plays attacking football with high-rated wingbacks. We are backing spurs to progress on goal aggregate.
Predictions for Napoli vs. Barcelona
Our Bet: Barcelona to qualify
Odds: 1/5
Barcelona has had a strong showing in recent fixtures, going unbeaten in the group stage. However, their recent games against Real Madrid and Real Sociedad that ended in a draw may be a pointer to a squad that needs some fixing.  Now, with a champion's league game against a struggling French side, it looks almost likely that Barcelona they will win both legs. Napoli fired Carlo Ancelloti, a manager who has seen them this far, not to mention that the club owner slapped players with a collective fine of 2.5 million Euros after missing training.
These events point to a bigger problem behind the scenes. With reports indicating that players have been absconding training, firing Ancelloti shortly after beating Genk in the last group stage may have added salt to injury. Gennaro Gattuso has quickly taken over the reins at Napoli but fixing the mess before facing Lionel Messi and the ilk in a gruelling 180 minutes of football looks like the biggest threat on Napoli's dwindling form. Enough said; Barcelona with its quality, a strong midfield and a domineering striking force will easily bag this one and progress.
Champions League 2019– 2020: Our Predictions For The Group Stage
Group A Predictions
Group A is made up of PSG, Real Madrid, Club Bruges, and Galatasaray.
Our bet: PSG & Real Madrid
Result: Right prediction
While Club Bruges and Galatasaray are reasonable teams, PSG and Real Madrid are in another league really. The two clubs consist of some of the greatest football players on the planet.
PSG has the likes of Neymar (for now), Cavani and Mbappé. And Real Madrid still has the likes of Bale, Benzema, Ramos, Marcelo, and now Hazard.
More specifically, we anticipate Real Madrid winning the group and PSG finishing in second.
Group B Predictions
Group B is made up of Bayern Münich, Tottenham, Olympiakos, and Red Star Belgrade.
Our bet: Bayern Münich & Tottenham
Result: Right prediction
It is extremely tough to see any other teams emerging from Group B other than these two. Tottenham made the finals in last year's competition, and Bayern Münich has long been one of Europe's best clubs.
It isn't necessarily the case that Olympiakos and Red Star Belgrade do not have talented teams; it's just that Bayern and Tottenham boast squads of world-class players. Therefore it is expected that both Tottenham and Bayern will simply outclass the other two teams.
We anticipate Bayern Münich winning the group, with Tottenham finishing second.
Group C Predictions
Group C is made up of Manchester City, Shakhtar Donetsk, Dinamo Zagreb, and Atalanta.
Our bet: Manchester City & Atalanta
Result: Right prediction
This is an interesting group since Shakhtar Donetsk has historically performed quite poorly in the Champions League. Yet both Dinamo Zagreb and Atalanta have never actually competed in the Champions League before.
Manchester City should walk out of this group as clear winners really, and they have undoubtedly been given the easiest group out of all the English teams.
We are also predicting Atalanta to finish second since they managed a 3rd place finish in Serie A last season. As we are all aware, the Italian Serie A consists of some great teams, and finishing 3rd does not happen by luck!
Group D Predictions
Group D is made up of Juventus, Atlético Madrid, Bayern Leverkusen, and Lokomotiv Moscow.
Our bet: Juventus & Atlético Madrid
Result: Right prediction
It's difficult to see any other outcome from this group than Juventus and Atlético breezing through. Of course, Juventus has the might of Ronaldo behind them, and Atlético has the likes of Diego Costa and Morata to carry them to victory.
The curious outcome for this group is who will actually finish on top, and who will finish second. Atlético put in a great performance against Juventus in last years competition, and Ronaldo delivered a hat-trick blow in the second leg to knock Atlético out.
Despite the drama and thrills of their clash last season, we are predicting a more favorable outcome for Juventus this time. Meaning that we expect Juventus to top the group and avoid any loss to Atlético.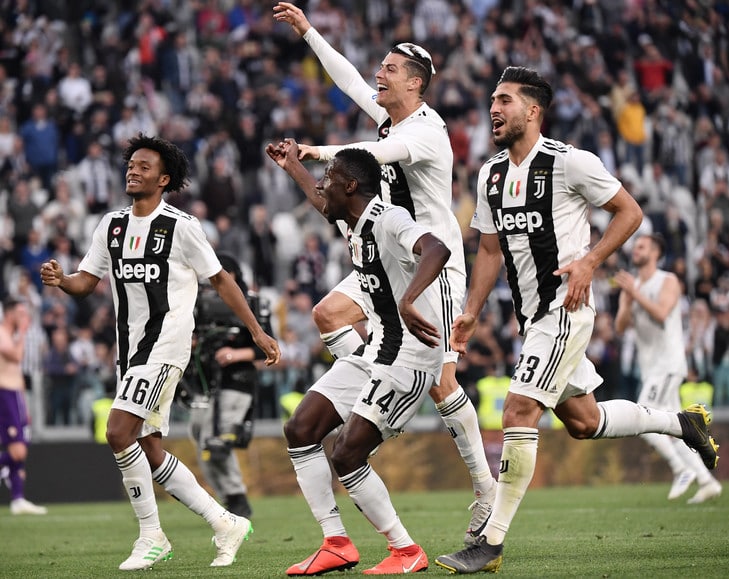 Group E Predictions
Group E is made up of Liverpool, Napoli, Salzburg, and Genk.
Our bet: Liverpool & Napoli
Result: Right prediction
The reigning champions haven't received the easiest group, but it is certainly one they will get out of. The tricky matchup here will, of course, be against Napoli, which is a solid team. This being said, Liverpool really is a world-class team right now with the likes of Salah, Van Dijk, Firmino, Mané, and several others.
Unfortunately, we don't feel that Salzburg or Genk really stand a chance against either Napoli or Liverpool. Therefore we thoroughly expect Liverpool to qualify in 1st place, with Napoli following them in 2nd.
Group F Predictions
Group F is made up of Barcelona, Borussia Dortmund, Inter Milan, and Slavia Prague.
Our bet: Barcelona & Borussia Dortmund
Result: Right prediction
While we feel that Barcelona and Borussia Dortmund are strong favorites to qualify from this group, it won't be a walk in the park. Barcelona has the same might as ever with Messi leading the pack, and Dortmund has been playing great football in the German Bundesliga already.
As we've seen before however, Inter Milan cannot be written off. Inter qualified by finishing in 4th place in the Italian Serie A last season, ahead of teams like Roma and AC Milan. So they are clearly a good squad.
But while there is potential for them to cause an upset in Group F, we are still predicting that Barcelona will win the group with Dortmund finishing 2nd.
Group G Predictions
Group G is made up of Zenit St. Petersburg, Benfica, Lyon and RB Leipzig.
Our bet: RB Leipzig & Benfica
Result: Wrong prediction
This is probably the weakest group out of them all, with no obvious powerhouse who should go through. However, our predictions have been made on several factors.
Zenit St. Petersburg is the Russian Premier League title holders, yet they have never advanced beyond the Round of 16 in the Champions League.
Benfica is actually no strangers to Champions League silverware, although that was over 50 years ago. They are however the current holders of the Portuguese Primeira Liga title.
Lyon has done incredibly well domestically in previous years, yet they have weakened in recent ones. And while they did make the semi-finals of the Europa League in 2016-2017, they didn't emulate this last season.
Then we have RB Leipzig, who actually qualified for this year's Champions League by finishing 3rd in the German Bundesliga.
All of this factored in, we feel that Leipzig has performed the best against the strongest opposition, with Benfica a close 2nd. This is how we predict the group standings will finish.
Group H Predictions
Group H is made up of Chelsea, Ajax, Valencia, and Lille.
Our bet: Ajax and Chelsea
Result: Wrong prediction
Some are even referring to this as the group of death! But despite those dramatic claims, we don't feel this group will be too complicated for Chelsea and Ajax to navigate through.
Sure, Chelsea has had a few teething issues already this season under their new manager, Frank Lampard. But this is starting to turn around. And everyone knows how Ajax took the Champions League by storm last season.
Valencia and Lille are respectable teams, but we feel the strength and depth that both Chelsea and Ajax have in their line-ups will be enough to see them through.
We predict that Ajax will finish in 1st place, with Chelsea a close 2nd.
Who Will Be The Champions League Top Scorer?
As we all know, the Champions League brings some of the greatest players on the planet together to compete. This has been a tough category to assess, but we feel that we have reached a suitable prediction.
Before we give the prediction, let's take a quick glance at the Champions League top scorer standings for the 2019 / 2020  season.
Lionel Messi, Barcelona – 12 goals, 3 assists
Robert Lewandowski, Bayern Münich – 8 goals, 0 assists
Dusan Tadic, Ajax – 6 goals, 4 assists
Cristiano Ronaldo, Juventus – 6 goals, 2 assists
Moussa Marega, FC Porto – 6 goals, 2 assists
Sergio Agüero, Manchester City – 6 goals, 1 assist
Edin Dzeko, Roma – 5 goals, 3 assists
Neymar, PSG – 5 goals, 2 assists
Raheem Sterling, Manchester City – 5 goals, 2 assists
Mo Salah, Liverpool – 5 goals, 2 assists
It comes as no surprise really that the list above shows some of the greatest players in the world. But, the real question is who will finish number 1 for this coming season?
Our bet: Sergio Agüero 
Odds: 8/1
Rather than go for the mainstream Lionel Messi or Cristiano Ronaldo choice, we have opted for Sergio Agüero. The Manchester City striker is already showing outstanding form in the Premier League this season, with 4 goals to his name.
Interestingly, his teammate Raheem Sterling is currently ahead of him for total goals in the Premier League this season. Sterling has 5 goals compared to Agüero's 4. However, we do not expect this to continue since Agüero is a more clinical striker than Sterling, and seems to keep his composure much better in pressure games.
Of course, there were several other high-profile contenders who we could have predicted for this category. Names such as Messi, Ronaldo, Salah, Mbappé, and Lewandowski were all on the shortlist.
Other Top Scorer Candidates
Lionel Messi clearly blew the field away last season with 12 goals and 3 assists. Needless to say, he is an amazing player, and the other Barcelona players are of course great too. But to say that Barcelona blew it last year would be an understatement!
Cristiano Ronaldo has dominated the Champions League in recent years. He is a big match player, as he has proved time and time again for Real Madrid. Last year he scored 6 and assisted 2, but watching the games he was certainly quieter than usual. And with the potential departure of Mandzukic this season from Juventus, we feel that he just won't have the support network around him to top the list.
The reason Mo Salah is not predicted for this season is on statistics alone. He snuck in at number 10 for last years top scorer list, despite the fact that his team won the title. Therefore, he was able to play the most games out of everyone else yet he finished 10th. There's no denying that he is a great striker for Liverpool, but he has yet to prove himself in the Champions League.
Lewandowski is currently in incredible form in the German Bundesliga. He already has 5 goals, and his ability as a striker goes without saying. This being said, Bayern seems to keep underperforming in the Champions League. Of course, this underperforming trend hinders the striker's ability to score goals.
Mbappé shot to fame following the French success at the World Cup. He announced his abilities on a global scale, and many suggest he will become the worlds best in years to come. However, with only 4 goals in last years Champions League and the uncertainty surrounding Neymar at PSG, we feel he may not be ready to top the list just yet.
Why Agüero?
Taking all of this into account, it would be unfair to not justify the choice of Sergio Agüero. So just why do we feel he will top the charts in this year's Champions League?
To start with, Manchester City as an overall unit is simply a goal-scoring machine. Take last years Premier League as an example – they played 38 games and scored a total of 95 goals. That's an average goal rate of 2.5 goals per game! This isn't bad considering the Premier League is arguably the most competitive league in the world.
In addition to this impressive statistic, Manchester City is undoubtedly one of the favorites to lift the trophy this year. The club's shock defeat to Tottenham in last year's quarterfinal, of course, hindered the club's strikers to get higher up the list. We feel that the club will be letting this happen again this year, and Agüero will likely rise to the occasion.
Who will win the champions league? Our favourite is Manchester City
Aligning with the prediction for this year's top goal scorer, we also feel that his team will lift the trophy.
Manchester City is currently one of the most dangerous teams in Europe. Of course, there are other amazing teams like Liverpool, Barcelona, Bayern Münich, Real Madrid, Juventus, Ajax, Tottenham and many others. But we feel that last years shortcomings will fuel the fire for Manchester City to lift the title this year.
The club has been so successful in domestic events, of course winning the Premier League being their most prestigious trophy. And the clubs manager, Pep Guardiola, has already voiced his desire and focus to win the Champions League this year. Of course, they are going to come across some major competition, but we truly feel that they have the best chance this year.
The addition of Rodri and Joao Cancelo will also bolster the clubs overall strength. Manchester City has also managed to keep the same group of players as last year, therefore team chemistry will remain high.
Other Title Contenders
As we mentioned previously, there are many other teams who will be fighting for this year's title. Let's take a closer took at some of the major contenders.
Liverpool, of course, lifted the trophy last year, cementing their place as the most successful team in European football ever! They have clearly proved that they have what it takes to win the Champions League, and they have done so multiple times.
Tottenham did incredibly well last year to make the final. There won't have been many football enthusiasts who predicted that they would go that deep into the competition. And the club has a solid line up, consisting of players like Kane, Ndombele and Lucas Moura.
Barcelona blew it last year if we are being honest. Messi was in red-hot form, and the club almost became complacent when they lost to Liverpool in the semi-finals. All the stars were starting to align for the club before Klopp's men shocked the world and destroyed Barcelona in the 2nd leg. Maybe this will motivate the team to finally perform as expected in Europe this year? Time will tell.
Ajax surprised everyone in last year's competition. The young and fearless squad made a huge name for the club by taking out Real Madrid and Juventus in impressive style. They are certainly contenders to go deep in the competition this year, and potentially a dark horse to win the whole thing.
PSG have struggled in European competition in recent years. This being said, they are still a solid team consisting of many superstars. The likes of Neymar, Icardi and Mbappé will prove a threat to any team.
Finally, Bayern Münich will always be a test for any team. Their top guy, Lewandowski is in great form and looks hungry for goals. Unfortunately, the side has repeatedly failed to win in the big Champions League games, but could this be the year that this changes?
Past Predictions: Champions League 2019 – 2020
We now know the two teams that will battle it out in June for the European crown. The semi-finals have been nothing short of breathtaking, with unpredictable upsets and plenty of fantastic performances.
With that in mind here's a look at how the remaining match will pan out, according to the Wearebettors team.
Predictions for the final game: Liverpool vs Tottenham
Our bet: Liverpool to lift the Champions League trophy
Odds: 1/1*
Football fans have truly been blessed this time, with what is probably the best ever Champions League season. There aren't any words fit enough to describe what has happened during the semi-finals. In fact, where do we even start? Liverpool's class act at Anfield, completely shutting down Barcelona's dreams of European redemption? What about Lucas Moura's heroics in Amsterdam, carrying a spirited Tottenham team that was 2-0 down at halftime, to secure them a spot in the finals through a hattrick of away goals? There's just too much to talk about, but one thing is for certain: both English clubs fully deserve to be in the finals.
Choosing a clear winner is obviously difficult, but this time, we'll have to go with the team that has been outstanding throughout the season, namely, Liverpool. Both domestically and away from the country, the Merseysiders have shown really good consistency under Klopp's guidance.  Even when losing 3-0 to Barcelona, most would have felt that the result wasn't a fair reflection of their good performance, and nobody would even argue that their 4-0 victory at home wasn't deserved. Despite heavy pressure from title contenders Manchester City in the Premier League, they've had the energy to keep up their European cup performances, which just goes on to show how hungry and talented the Reds are. Mo Salah and Firmino should be back to full fitness by the time June comes around, which will bring the club back to its full power. Add to that their incredibly solid defense, led by the PFA award winner Virgil van Dijk, and you have a team that nobody in the world would want to face.
On the other side of the field, the Pochettino's Coys stand proud. It's the first time that the London side reaches the Champions League final, and their run almost looks like it's been helped a little by destiny. But taking away from their heroics would be unfair because the English club has shown bravery and unfaltering resilience while making their way to Europe's biggest stage. Despite the absence of captain Harry Kane, Spurs have stepped up to show the world that they aren't a one-man team. Son has proved again and again that he's a match-winner, while Dele Alli continues to impress at his age. And who could forget about the rise of Lucas Moura, tearing through defenses, leaving them scratching their heads with his blistering pace? It's a scary, very organized team that Pochettino has carefully has built up, and truly, they do deserve to be in this Champions League final. And with Harry Kane potentially being available in June, we could be looking at a squad that's, like Liverpool, back to its full strength.
The odds are naturally in Liverpool's favor. They've been the much better team throughout the season, and they barely show any weaknesses. In the end, we think that it's also a clash of managers. A clash of ideas. Klopp and Pochettino both deserve the trophy for all of the work they've put into their respective clubs. We still believe that Liverpool has the edge here, but in the end, we're still talking about the world's most loved sport. On the pitch, anything could happen. In the Tottenham manager's own words, "It's amazing. Thank you football."
Champions League 2019 – 2020: Our predictions for the semi-finals
Predictions for Barcelona vs Liverpool
Our bet: Liverpool to qualify
Result: Right prediction
Odds: 6/5*
This prediction might initially seem like a bold one to make, but the term is exactly the right way to describe Liverpool's recent performances: bold. The Merseyside club has shown incredibly consistent quality since the group stages of their European campaign and always looked comfortable when disposing of Bayern Munich and Porto. Granted, their Portuguese opponents during the quarter-finals were perhaps not a side of good enough quality to be able to test the Reds in a dangerous manner, but the likes of Roberto Firmino and the excellent Sadio Mané have always remained a dangerous threat. Let's not forget about Mo Salah, once again back to his goal-scoring ways, who is showing why he is one of the world's most dangerous strikers. Liverpool also boasts a very solid defense, with Van Dijk even bagging a goal in the last round to boost his backline's confidence. The atmosphere at Anfield will be electric.
Messi's consistently fine form is always a blessing for Barcelona. Similar to the way Liverpool cleanly executed Porto, the Catalan club had no problem making quick work of an inferior Manchester United side. The trio of Lionel, Suarez, and Coutinho is formidable, and the backline partnership of Pique and Langlet has been positively growing throughout the season. There is no doubt in anyone's mind that the Blaugrana are well-equipped to deal with Liverpool's strong offense, so we believe that the matchup will be down to the little details, and the side that will show the most passion between the two.
Ultimately, both teams will want to capitalize on their home fixtures. Barcelona will find it very difficult to cut through the Reds at Anfield, and we remain confident that Liverpool will be able to seek out a stalemate in Spain, during their away game. It's an exciting tie ahead, without a doubt, but Klopp's men should be able to cause an upset here.
Predictions for Tottenham vs Ajax
Our bet: Ajax to qualify
Result: Wrong prediction
Odds: 3/4*
The story of Ajax's evolution throughout the Champions League campaign has felt like reading a fairytale. It's been truly magical watching the young Dutch club convincingly beat title holders Real Madrid, to then outplay a favored Juventus side. With De Ligt and Blind putting up performance after performance, De Jong controlling the middle of the park, and the whole team spearheaded by the in-form Tadic, the historically-rich Amsterdam-based football club has proved to the world that talent and passion are ultimately the deciding factors in the sport. They will be keen on putting their skills on display once again during the quarter-finals. The biggest clubs in the world are all after the young talents of Ajax, and that's to nobody's surprise.
However, on the other side stands a very confident Spurs side, having freshly beaten competition favorites Manchester City. Even without their leader and striker Harry Kane, the London club have shown bravery under Pochettino, with match-winner Korean magician Son being a key component in their formation. The 7-goal thriller at the Etihad stadium was undoubtedly the best match of the Champions League all season, with the Whites having shown that they fully deserve to be the ones advancing to the next stage of the competition.
Both sides will be needing to put on their best performances when they meet, but there is a small problem for Tottenham here: No Son for the first leg in London, having picked up a yellow against City, while Kane is out for the rest of the season. Ajax will surely be looking to pounce on the opportunity, inflicting some serious damage before playing in the comfort of the Amsterdam Arena. Regardless, we're quite certain the tie will be a very close one, to the delight of football fans, but that ultimately, Ajax should be the ones edging it out.

Champions League 2019- 2020: Our predictions for the quarter-finals
Predictions for Ajax v Juventus
Our bet: Juventus to qualify
Result: Wrong prediction
Odds: 1/1*
Even though we had predicted that Ajax would get past Real Madrid, the world was shocked to see just how convincing the young Dutch side was against the Spanish giants. The likes of Tadić and De Jong have proven that they're top class European footballers, having played key roles in the dismantling of the Champions League title holders.
However, the Real Madrid side that Ajax defeated was one without Cristiano Ronaldo. The talismanic player has already had a massive impact in his new squad, the Champions League all time top scorer having scored a hat trick against Atletico Madrid, to complete a sensational comeback. And, coupled with the fact that Juventus has made it twice to the finals in recent years, but falling short on both occasions, it's safe to say that the Italian club is eager to show the world that this will finally be their year.
Perhaps it's that hunger, coupled with Juventus' experience and Cristiano's good form, that will see the Turin side get the edge over the Dutch club. Not to mention that Juventus has already pretty much secured the Italian Serie A trophy, while Ajax is still facing tough competition back at home, which puts a bigger mental toll on those players at the end of the day.
Predictions for Liverpool v FC Porto
Our bet: Liverpool to qualify
Odds: 1/3*
Result: Right prediction
This matchup is probably the simplest one for football pundits to predict. Liverpool has shown great character by delivering the goods in Munich, showing the Bavarian side that they're here to go as far as the finals. The Reds have experienced a positive turn in form in recent years under manager Klopp, but still, haven't won any silverware. They will be eager to take advantage of a weaker Porto side, with a solid defense led by Van Dijk, that barely makes mistakes.
Porto will be the underdogs here, having already lost 5-0 at home back in 2018 to Liverpool in the Champions League, at the mercy of a Sadio Mané hat trick. The English club's number 10 is currently in terrific form, having scored 6 games in a row in all competitions. Liverpool remains unbeaten at Anfield in the Champions League and the Premier League since last year.
The Portuguese could definitely stage a miraculous performance in the quarter-finals draw against a more well-rounded Liverpool side, with the likes of Manchester United and Ajax having performed similar feats. They do possess the likes of Eder Militao, who is set to join Real Madrid in the summer, in their ranks, to bolster a solid defense.
Predictions for Manchester United vs FC Barcelona
Our bet: FC Barcelona
Odds: 6/5* 
Result: Right prediction
Manchester United face another tough mountain to climb, in the form of a clinical-looking Barcelona side. Under interim manager Ole Gunnar Solskjaer, the Red Devils have undergone a complete transformation, and showed incredible tenacity after coming back against a star-studded PSG side, to qualify for the quarter-finals. Once again, they will be considered as clear underdogs, and despite Lukaku and Rashford's growing partnership, they face much tougher competition against the Catalan club.
And what a competition it will be, mainly due to the incredible form Lionel Messi is in. The Barcelona captain is in great form, having scored 8 goals and bagged 11 assists in the Champions League so far this season. In the Spanish La Liga, he is a top scorer as well with 26 goals and 12 assists, having played a key role in pushing his club to the top of the table, is more than 5 points clear of second-placed Atletico Madrid.
Barcelona looks unlikely to repeat the same mistakes as PSG, with veteran player Piqué leading the defense in remarkable fashion, they will surely keep track of the Red Devils' slippery strikers. Manchester United is a club that can never be completely written off, of course, but they'll have to produce some unbelievable bits of magic, to be able to defeat the very inspired Messi-led La Liga table-toppers.

Predictions for Tottenham vs Manchester City
Our bet: Manchester City
Result: Wrong prediction
Odds: 4/6* 
What a form the Manchester side has been in, executing Schalke 10-2 in aggregate, and making a big statement while doing so. The Citizens have never won a Champions League trophy before, and ever since the club has been taken over by new ownership in 2008, European dominance has become one of their main goals. Pep Guardiola is most definitely the right man to bring the club forward, and the exceptional Sané and Aguero have time and time again proven why they're amongst the best players in Europe, if not the world.
Harry Kane-led Tottenham cannot be written off either. Their very convincing win over Dortmund in the round of 16 has cemented their foothold in the European elite competition, and their captain's form is as great as ever. Son Heung-min is a permanent attacking threat, and Tottenham's offensive ability won't allow Manchester City any major defensive slip-ups. Let's not forget that the Spurs have kept a clean sheet against Borussia Dortmund, and even though the Citizens cleanly executed Schalke, it won't be such a simple affair this time around.
Even so, Manchester City just has higher quality in their ranks, and look hungrier overall for European glory. Guardiola is experienced when it comes to the Champions League, and having already defeated the London side once in the Premier League this season, surely he has a good idea on how to approach the matchup. Nevertheless, an upset is still possible, but the ball seems to be in City's camp for now.
Champions League 2019 – 2020: Our predictions for the round of 16
Predictions for Manchester United v PSG
Our bet: PSG to qualify
Result: Wrong prediction
Odds: 4/9*
When the draw was made, the runaway Ligue 1 leaders would have been licking their lips at the prospect of going up against a United side who look lost for ideas under Jose Mourinho's management.
That will have all changed though with the news that the 'Special One' has been sacked by the Old Trafford hierarchy, whether that makes the Red Devils a more difficult proposition to deal with is one that can be argued.
A lot will depend on just who the man to fill Mourinho's shoes, with the likelihood being that is a caretaker manager to step in until the end of the season. However, should they get the right man installed then there is no reason why he cannot galvanize a talented but misfiring squad.
You only have to look at Roberto Di Matteo who took over at Chelsea during the 2011/12 season in similar circumstances, the former Italian international lead the Blues to an unexpected Champions League trophy with a historic win against Bayern Munich in the German's own backyard.
Whoever is the man that is next in charge at Manchester United will certainly have his work cut out as they will have to plan on just how to deal with the likes of Neymar, Mbappe and Edinson Cavani. A fearsome trio that almost makes taking the job something of a poisoned chalice.
Predictions for Borussia Dortmund v Tottenham
Our bet: Borussia Dortmund to qualify
Result: Wrong prediction
Odds: 8/13*
Arguably the most even pairing of the eight on offer and a tie that really could go either way in terms of who progresses to the next stage, especially as two of Europe's most exciting sides look set to do battle once more.
Last season the two sides were paired together in the group stages and Tottenham came out on top on both occasions, those results saw the North London outfit top their mini-league before eventually being knocked out by Juventus in the round of 16.
This season Mauricio Pochettino's men had to make do with a second place finish in the group stage and will be wary of a Borussia Dortmund side that has definitely improved since that pair of losses last year.
Something that is clearly evident by the fact that they are unbeaten in the Bundesliga this season and have already managed to get the better of arch-rivals Bayern Munich in their first league clash of this campaign.
There are many similarities between the two clubs, not just in the way they play but also for the fact that they prefer to promote youth than opposed to spending big money. It's a shame that they've been paired so early, as they both deserve to go a lot further in the competition.
However, regarding the performances of Dortmund this season, we think they should do it to the next stage, taking into account that their league is weakest than the Premier League and they have fewer games to play, a crucial data at this level of the competition.
Predictions for Liverpool v Bayern Munich
Our bet: Liverpool to qualify
Result: Right prediction
Odds: 3/4*
The second of three Premier League vs Bundesliga clashes in this stage of the Champions League as last season's losing finalists are paired with a side that is going through something of a transition at present.
The once mighty Bayern Munich are struggling to keep up with Borussia Dortmund and are undoubtedly feeling the effects after a change in managerial personnel. There was always going to be huge shoes to fill when Jupp Heynckes left and Niko Kovac is the man who is trying his best to do so.
Unfortunately for him, he has also had to deal with father time getting the better of the likes of Arjen Robben and Franck Ribery for as good as they have been for the Bavarian giants they simply cannot last forever.
At the same time though they are not a team that can be written off and will be a big test for Liverpool, something that their manager Jurgen Klopp will undoubtedly relish as he gets the opportunity to go up against an old foe.
Liverpool needed a win over Napoli in the final matchday to secure their progress and you could even argue that they are not playing as well as last season, the only thing that may distract them is the fact that they are in the midst of a genuine domestic title race with Manchester City.
Predictions for Manchester City v Schalke 04
Our bet: Manchester City to qualify
Result: Right prediction
Odds: 1/25*
And it is Manchester City that makes up the English contingent in the third of our Premier League vs Bundesliga Round of 16 battles, while at the same time they arguably have the easiest pairing of them all.
That is because they have been paired with competition minnows Schalke, who themselves will be looking to perform the biggest upset of the round by progressing to the last eight and moving one step closer to emulating their final four appearances in 2011.
For City, though this presents the perfect opportunity to assert their European dominance as Pep Guardiola looks to be the man who to lead the club to their first ever success in the Champions League, while also ending his eight-year trophy drought in this competition.
And of course, this is not the first Bundesliga opposition that City will have faced this season as they met Hoffenheim in the group stages, a pair of fixtures that although were keenly contested saw the defending Premier League champions come out on top on both occasions.
City may well feel that this trophy is their main objective for the season, so much so that they let the Premier League through their fingers. They are currently the favorites to win the Champions League, now they just have to make sure they live up to that tag.
Predictions for Real Madrid v Ajax Amsterdam
Our bet: Ajax Amsterdam to qualify
Result: Right prediction
Odds: 3/1*
They used to say back in the day 'never write off the Germans', now that phrase should be changed to 'never write off Real Madrid', the team that even though it is going through a state of flux can't be ruled of Champions League contention.
At the same time though this is a side that has the richest pedigree of all in this tournament and will confident that they can dust themselves off after an early-season blip to extend their winning streak to four years in a row.
If they are to do so then they are going to have to do it without the legendary Cristiano Ronaldo who swapped Madrid for Turin back in the summer and also the managerial mastermind of Zinedine Zidane who bowed out after Los Blancos success over Liverpool back in May.
Santiago Solari has filled the managerial void after the failure of former Spain manager Julen Lopetegui in the first few months of the campaign, an appointment that admittedly is akin to a marriage of convenience.
A marriage that could well head for an early divorce if they fail to get the better of an Ajax side that is going through something of a European resurgence this season. So… What if? What if this confrontation doesn't end as everybody expects? This could well prove to be the shock of the round, at least that's what we think at Wearebettors!
Predictions for Juventus v Atletico Madrid
Our bet: Juventus to qualify
Result: Right prediction
Odds: 1/2*
This is one for the football purists as two of the best defensive outfits in Europe go head to head in the Round of 16. In one corner you have the tenacious Atletico who are led by former Argentina midfielder Diego Simeone. While in the other corner you have a Juventus side that has always been feared across the continent due to the wily tactician that pulls the strings from the technical area, that man, of course, being Massimiliano Allegri.
However, it's not just a tactical genius that the Italian giants possess. They now have the phenomenal Cristiano Ronaldo among their ranks and it could be that signing that turns from Champions League nearly men to outright winners. Of course, these two clubs know all about falling short at the final hurdle with both of them being tormented by a Real Madrid side that included Ronaldo. For Atletico, it was defeat in 2014 and 2016, while for Juventus it was in 2017.
Also, one should not forget that Juventus were losing finalists back in 2015 at the hands of Barcelona. Could this finally be the year in which they stop being the bridesmaid of European football and finally become the bride?
Predictions for Barcelona v Lyon
Our bet: Barcelona to qualify
Result: Right prediction
Odds: 1/14*
That aforementioned win for Barcelona in 2015 in Berlin was the last time that the Catalan giants have won the Champions League, for a club of their stature that is a wait that has gone on far too long.
What is probably all the more galling is the fact that they have had to watch Real Madrid go on and win the last three editions of the competition, something that has undoubtedly rubbed salt in their proverbial wounds. In the Round of 16, they are presented with a very realistic hope of reaching the last eight as they are paired with a Lyon side who in fairness did manage to get the better of Manchester City in the group stage of the competition. That is something that Barcelona manager Ernesto Valverde will undoubtedly be wary of as he looks ahead to this clash, he certainly cannot afford to take his Ligue 1 opponents too lightly as they will be duly punished.
We saw recently that they can be got at, as Tottenham were more than their equal during their matchday six clashes at the Camp Nou. However, Barcelona did rest their star names and with a full strength team, they will be heavy favorites to proceed.
Predictions for AS Roma v FC Porto
Our bet: FC Porto to qualify
Result: Right prediction
Odds: 4/5*
Arguably the two clubs that a lot of the bigger names would have wanted to face in the Round of 16, so the fact that they have been paired with each other will undoubtedly be good news for both Porto and Roma. The current Portuguese league leaders topped arguably what was the weakest group of the opening phase and did so with relative ease as they picked up sixteen out of the eighteen points that were on offer.
The fact that they had such an easy run to the Round of 16 should take nothing away from their efforts as ultimately you can beat the teams that are in front of you, something that more often than not they achieved with relative ease. They go up against a Roma side that finished second in a group that contained Real Madrid and it is fair to say that their European exploits have been a welcome distraction after what has been a forgettable domestic season. There's not a great deal to choose between these two teams and both of them will be thinking to themselves that they can get the better of the other and in turn to progress to the quarter-finals.
However, regarding the poor season of AS Roma in the Serie A, they will have to fight hard on a domestic plan to take part in the Champions League next year. That might be a priority to them, and they may lose a lot of strength in their Championship, contrary to FC Porto. We will give a short advantage to FC Porto.
Champions League 2019 – 2020: Our predictions for the group stage
Predictions for Group A
Our bet: Atletico Madrid and Borussia Dortmund to qualify
Result: Right prediction
Odds: 4/9*
Atletico Madrid is coming off of a European League title win last term. The club may have played poorly in the 2017-18 Champions League group stage, but part of that was due to a summer transfer ban. The team is stacked this season with Antoine Griezmann, Thomas Lemar, Diego Costa, and Jan Oblak just to name a few players. Manager Diego Simeone is one of the best in the business and Atletico will play better this season in the tournament. In addition, the club has an incentive to make it to the final. The European Cup Final will be played at Atletico's WANDA Metropolitano Stadium. Borussia Dortmund is a top team and will just edge out France's Monaco in the group. The continued selling of top stars will doom Monaco to third place and the Europa League.
Predictions for Group B
Our bet: Barcelona and Internazionale to qualify
Result: Wrong prediction
Odds: 1/2*
Group B is a group of death with Barcelona, Tottenham, Internazionale and PSV Eindhoven. On paper, each team can take points off the other. Barcelona will top the group as Lionel Messi and company will get to the knockout stage once more. Inter will pip Tottenham to second place. It will be close, but Tottenham's lack of depth and their difficult Premier League schedule will enable Inter to make the next round. PSV are a good side, but they are not of the caliber of the other three in the group. They may be able to get a point or two, but PSV will be Group B's strugglers.
Predictions for Group C
Our bet: Paris Saint-Germain and Liverpool to qualify
Result: Right prediction
Odds: 8/15*
Paris Saint-Germain, Liverpool, Napoli, and Red Star Belgrade will make up Group C. The Group will be exciting and plenty of goals should be scored. Paris Saint-Germain and Liverpool will qualify from the group and their fixtures against each other should be thrilling. Both have the talent to win Group C, but PSG has the advantage in front of goal and could top Group C thanks to goal difference. Napoli has started life without Maurizio Sarri well in Serie A. But the Champions League is a different beast and they will struggle to adapt. Manager Carlo Ancelotti is experienced, but Napoli doesn't have the firepower PSG and Liverpool possess. Red Star has already played in the qualifying rounds. They didn't impress too great and will struggle to gain points in Group C.
Predictions for Group D
Our bet: Porto and Schalke to qualify
Result: Right prediction
Odds: 15/8*
Group D is one of the more open groups in the Champions League. Each team has the chance to go through, but it will be decided by which club gets hot during the tournament. Porto is the best team in Group D on paper and will be able to navigate its tricky waters. Regardless of selling top players each summer, Porto reloads their squad with capable footballers. Schalke will join Porto in the knockout round with a second-place finish. Young manager Domenico Tedesco is one of the best up and coming coaches in football currently. He led the side to a second-place finish in the Bundesliga last season surprising everyone. Schalke have their eyes on the Champions League already and will be tough to beat. Galatasaray and Lokomotiv Moscow will fight it out for the third spot and Europa League qualification. Galatasaray will edge it thanks to players like Eren Derdiyok, Sinan Gumus, and Ryan Donk.
Predictions for Group E
Our bet: Bayern Munich and Ajax to qualify
Result: Right prediction
Odds: 11/8*
Bayern Munich is head and shoulders above the rest of the teams in Group E. It isn't a matter of if the Germans will qualify top of the group, rather it is when. Niko Kovac may be in his first season as manager, but the Croatian is a highly skilled tactician. Bayern will have no trouble topping Group E. Ajax are back in the Champions League after a few years away. It took a qualifying campaign for the Dutch team to make the group stage, but it is now ready to push on. Ajax is better than they have been in previous seasons and the additions of Dusan Tadic and Frenkie de Jong make them a difficult proposition. Benfica is always a good team, but Ajax will be too much for them. The two clubs will play back to back matchdays which should be the turning point for qualification to the knockout stage.
Predictions for Group F
Our bet: Manchester City and Lyon to qualify
Result: Right prediction
Odds: 6/4*
Manchester City will dominate Group F with little resistance. Pep Guardiola's team showed so much strength in all areas of the pitch during last season's group stage. Football fans should expect the same once again this season. Lyon may not be up to Manchester City's level, but the French team boasts a number of top players. Memphis Depay has found a home with the French team and scores big goals for the club. Hoffenheim and Shakhtar Donetsk will battle for Europa League qualification from the group. Last season, Shakhtar defeated Manchester City on the final day of the group stage. That will only happen again if Manchester City has already wrapped up the group.
Predictions for Group G
Our bet: Real Madrid and Roma to qualify
Result: Right prediction
Odds: 2/7*
Real Madrid and Roma will have no trouble getting through Group G. In fact, compared to the Champions League's other groups, this one looks a bit dull. CSKA Moscow and Viktoria Plzen will make up the numbers in Group G. There shouldn't be any surprises and even without Ronaldo, Real Madrid will win the group.
Predictions for Group H
Our bet: Juventus and Manchester United to qualify
Result: Right prediction
Odds: 4/6*
Group F is another group of death in this year's Champions League. It features two former winners in Juventus and Manchester United along with Valencia, who made the final twice in the early 2000s. There are also Switzerland's Young Boys, who will want to shake things up against the big boys. Juventus are the strongest team in the group. Even before Ronaldo arrived, Juventus would be fancied to go through. Manchester United are not the team of old. Jose Mourinho's tactics are dull and the Red Devils are flat-track bullies. Valencia will push them, but Mourinho often gets things right in cup tournaments. His management will get Manchester United into the knockout stage. Young Boys may take a point or two off of the rest of the group, but Valencia is good enough for third.
Predictions for English teams in the Champions League 2019-20
Manchester City, Liverpool, Tottenham, and Manchester United make up the English clubs playing in this year's Champions League. Liverpool was the beaten finalists' last term after swashbuckling their way to the final behind the goals of Mohamed Salah.
Liverpool is even better than they were last season and will be difficult to beat. However, Manchester City may be the most difficult English team to play. The combination of Pep Guardiola's tactics along with star players such as Sergio Aguero, Kevin De Bruyne, and David Silva can defeat any team in the Champions League.
Manchester United crashed out of last season's tournament with a whimper. The club did little in the summer transfer window and is no different than it was the last term. Manchester United will make the knockout stage but will crash and burn there. Tottenham was the only Premier League team not to make a transfer signing. Mauricio Pochettino's team is lacking in depth and it will haunt the club in the Champions League.
Who will be the Champions League top scorer?
Our bet: Lionel Messi
Barcelona's Lionel Messi is always a dangerous player in front of goal in the Champions League. Like Ronaldo, Messi has a lot to prove this season due to Barcelona's capitulation in the Champions League against Roma last year. The 2011-12 Champions League was the last time Messi led the goalscoring charts. He scored 14 times during that season.
Cristiano Ronaldo has topped the Champions League goalscoring charts in six consecutive seasons. Each time, Ronaldo has scored double-digit goals. The Juventus player will have plenty of opportunities to score during this season's tournament. Not only will Juventus play six group stage games, but the Bianconeri should make it deep into the knockout rounds.
PSG forward Neymar is fit and will have every opportunity to once again show he is as good as Ronaldo and Messi. If he can top the goal scoring table, Neymar will be able to make the claim that he is on par with the other two stars.
Liverpool's Mohamed Salah tallied 10 goals last season. Had he not got injured in the Champions League Final, he may have been able to add to the tally. Salah will be full of confidence when Liverpool kick off their campaign against PSG.
Finally, Bayern Munich's Robert Lewandowski should be considered for the top scorer trophy. The Bayern man has scored goals for fun in Germany. He is the team's undisputed No.9 and barring injury, he will have plenty of opportunities to score goals.
Our Favourite: Liverpool FC wins the Champions League in 2019-20
Odd: 5/2*
Liverpool FC has truly been rejuvenated by the charismatic leadership and coaching prowess of Klopp. The Merseyside club had already reached the Champions League finals of last year and will be looking to not only repeat a similar feat this season, but to even go on and win the whole competition.
Real Madrid is now experiencing life without Ronaldo. Los Blancos are without the X-factor he brought to the table.  This season will see the Spanish dominance of the Champions League end and it may be a long time before it reappears.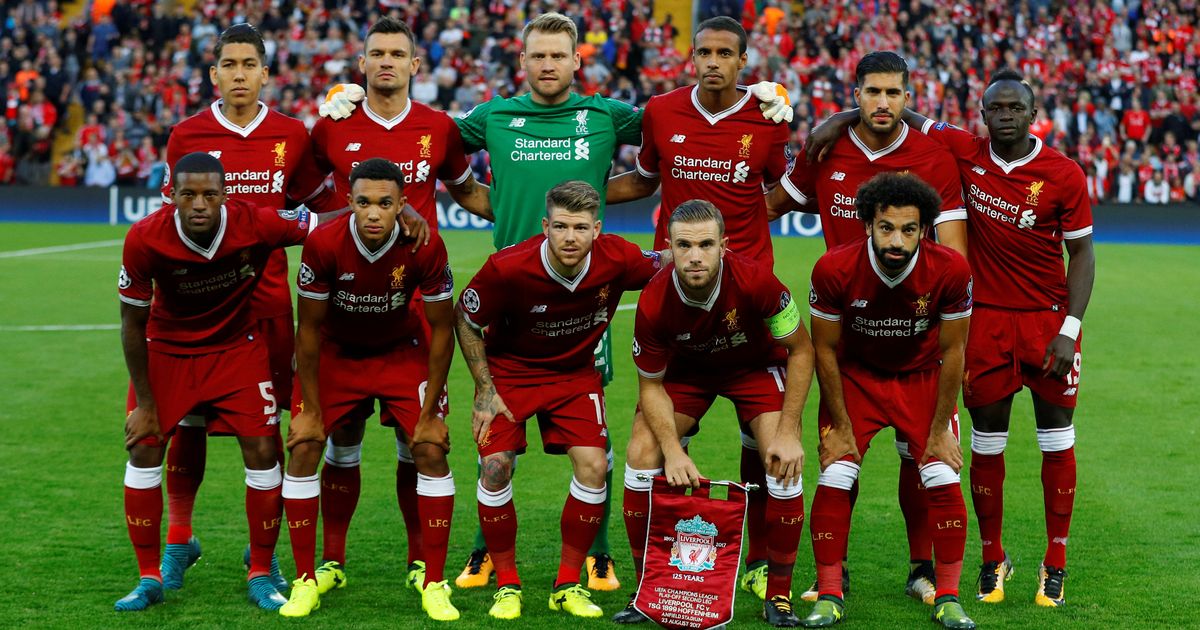 Barcelona may be Liverpool's toughest task if the two clubs meet. Messi's excellent form just takes the Catalan club to new heights, and if any side could stop the Reds, it might just be the Blaugrana.
Liverpool will be the final team standing on June 1 at Atletico Madrid's WANDA Metropolitano Stadium. Klopp will mastermind the club's Champions League trophy lift, after years of waiting by fans.
Champions League Predictions 2019-2020
Only 2 teams left at this stage of the competition: 1 English team (Liverpool) and 1 Spanish team (Real Madrid) for a game between two teams who have not met in final since 1981.
The UCL 2018 Battle
This season of the Champions League has given much to talk about after the doubles title won by the Real Madrid. Not only because of the entry of "new" teams into the competition but because of the surprise that some small teams have shown a lot of strength against the bigger teams. Another point to note is that the same teams of last season, Real Madrid, aim to be the winner of the title. That would be 3 titles in a row, something never seen in this competition.
Even if most of the bookmakers see Madrid win the title, Liverpool is on fire lately and Salah would be very helpful to defy the Spanish giant:
Updated after the Quarter Finals Draw
The 2017-2018 season already offered a lot of surprises, like every year. The past year, in the playoffs for the qualifiers, Apoel, a team that almost always qualifies, was eliminated by FC Copenhagen. Another team that qualified was Mönchengladbach which eliminated the Young Boys. To the sadness of some Italian fans, Roma was left out to be removed by Porto. After defining the groups, some big teams earned an "easy" group. For example, SSC Napoli is in the group with the weakest teams, in group B is the only team that has double digits in points with a total of 11 points, 3 wins, 2 draws and 1 defeat.
At the beginning of the group phase very predictable results were expected, and so with the most powerful teams. FC Barcelona beat Celtic 7-0. Bayern München received Rostov at home and scored 5-0. Another big team that obtained a triumph in the first phase of groups was Atletico Madrid, 1-0 against PSV. On the second date of the group stage in the Champions League, Juventus won 4-0 at Zagreb, Real Madrid tied 2-2 with Borussia Dortmund and Leicester 1-0 at Porto. These were some results of the beginning of the first 2 weeks of the Champions League.
The bigger teams have shown that they are in good shape, have lost almost no match, despite some clashes they have had between them.
Predicting which team will get the UEFA Champions League title requires a look at the team's most recent odds* and statistics.
Finals Odds
The UEFA Champions League promise will be a tight match between two teams who love to attack. There's no doubt it will be an exciting match between Liverpool and Real Madrid.
Real Madrid – Liverpool: Can the Spanish win three titles in a row? 
Scorers: Salah vs Ronaldo: the duel between the two superstars will be astonishing
To bet, on this match, it is better to wait for the last moment in order to be sure of the players who'll be able to play. If Ronaldo, Salah or Ramos get injured a few days before the match, the odds and the predictions won't be the same. However, the odds are always interesting in this kind of game.
2 possible candidates left for the title
There are only teams who can still win the title: Liverpool and Real Madrid, the two finalists.
1- Real Madrid: They have a good level in the Champions League, but they have had problems to win in the local league of their country. The team already has 12 UCL titles and aspire for another. This would be the third crown for Zidane In 2018, the team looks even stronger than in 2017, especially after beating the Paris Saint Germain and Bayern Munich. They look stronger than ever this season and will do everything they can to realize something that has never been done before: winning 3 UEFA Champions League titles in a row.
2- Liverpool: With their amazing attack and Mohamed Salah in a shape we have never seen, Liverpool has been very impressive. Their victory against Manchester City in the 1/4 and the first game against AS Roma in the semi-finals were incredible. Jurgen Klopp, and all the Reds fans are confident that can beat anyone in the UEFA Champion's League with such a great team. They recruited Van Djik last winter, who became the most expensive defender on the market. He really changed their defense and they are now way stronger than they use to be. Everything is possible with this club.
Prediction: Real Madrid to win UCL 1/1 at Paddy Power*.
Full Odds for the Champion's League Winner 2019:
*All odds are correct at time of publishing and are subject to change
[kkstarratings]